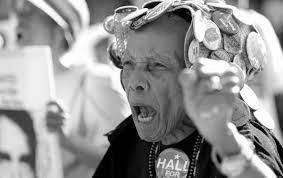 Racism is an Illness…Are you sick?
Jesus was a Black Man.
Sex is Not Strawberry Jam.
Yeye Osun of Houston
Queen Mother Dember made her return from Orun (Heaven) to Aiye (Earth) on Wednesday, January 29th, 1930. It was 43 years prior to the exact date of Zin. The moon was new in Aquarius. Queen Mother Dember was an all- around Aquarius woman by sun and by moon. Saturn and Uranus were solid on both sides. She was fixed air. In the Afrikan way of the stars, it was the season of The Baobab Tree. She was a life path number 5, The number sacred to Osun. Speaking of, one of her many titles was "Yeye Osun of Houston." She was a perfect, rare, and truthful embodiment of the Orisa Osun, because many people have Her misrepresented. More than She is the goddess of beauty, wealth, erotisism, and divine feminine energy, She is a WARRIOR. Mother Dember exuded a fine example of the warrior essence of the Orisa Osun.
As opposed to being a woman that wore many hats, she wore the same hat with many portals. Physically, they were many buttons. I always wondered if there was one for every award and honor of this divine woman's work. I speak of Who's Who in American Women. I speak of the Sojourner truth Award. I speak of the Poetess Public Service Humanitarian Award. Her throne was one of many seats. A few of them included the NAACP, National Black United Front, Institute of Interracial Harmony, Elder Institute of Wisdom at the SHAPE Community Center, and Africans United for Sanity Now!, founding member, that is. Her inspiration to me was simply letting nothing stop her from doing her divine work. Not age. Not bereavement. Not trauma from injustices witnessed. Nothing stopped from Her confronting uncomfortable topics that plagued humanity.
Queen Mother Dember had a creative streak aside from her social activism. She actually designed the Black History badge for the S.C. Girl Scouts. She curated Black History Exhibits for many educational groups. She often shared her literary thoughts with others. She published a poetry book called "Sex is not Strawberry Jam." My most fond memory of her was the time and space I was able to sit at her feet and recite her poem. It was a moment of Queen Mother Poetry recited by an Empress who could only aspire. I, like she, walk the path of the sacred scribe.
Queen Mother Dember returned to Orun from Aiye on Sunday, February 10, 2019. It was Aquarian season, third decan. Half Gemini energy. The moon was waxing in Aries. In the Afrikan way of the stars, it was the season of The Wealth of Amber and Silver. The day vibrated on a 6, set for manifesting material values with spiritual energy. I was given the honor of reading a special poem at her homegoing service…and now, I can continue her honor by honoring Queen Mother Dember as a Distinguished Ancestor of 222.9 The Mothership!
Ase.