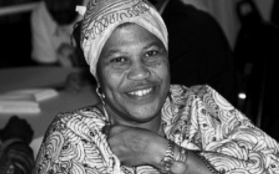 Bringin' in the Spirit
Birth is a Sacred Family Event
International Center for Traditional Childbearing…
and the list goes on…
Queen Mother Ayanna Ade made her return from Orun (Heaven) to Aiye (Earth) on Tuesday, March 13th, 1951. It was the third decan ofn Pisces season, where Neptune and Mars meet. Her life path number was a 5, as she was a woman that represented the spirit from all 5 points, releasing into the fullness of herself to be all she could be for others. The moon was waxing in Gemini bringing Mercury into her planetary alignment. She was a woman of the mutable waters. Its is plain to see as she spent her life guiding others from heaven to earth….through the waters of birth. In the Afrikan way of the stars, it was the season of The Family.
Queen Mother Ayanna Ade was one of the first examples of the divine feminine in the guise of a spiritual activist. She even birthed my very first libation at a Carl Hampton Commemoration. It was 2011, and we were in the Golden Gate Cemetery. For those that are learning of Orisa, the cemetery is the main home of Oya. I would later learn 6 years later that Oya was my select head…but in this moment six years prior, She was dropping some serious clues that day, as I was just skipping around the cemetery, reading the gravestones of those who called out to me. I didn't know why I was so interested in visiting old graves. It just came naturally to me. I was unaware that Queen Mother Ayanna Ade was watching me until it was time to begin the ceremony to Carl Hampton. She stepped to the front of all who gathered and greeted the crowd. She then turned to me with the glass of water in her hands and asked me, "Would you like to come up and pour libations?" The interesting thing was, her lips were asking, her eyes were not. In her mastery as an educator, she gave me the hands- on experience of libation….how indigenous children learn. Because of Queen Mother Ayanna Ade, my first libation was to a freedom fighter. More than a decade later, I am still pouring libations.
Queen Mother Ayanna Ade returned to Orun (Heaven) from Aiye (Earth) on Thursday, May 23rd, 2013. It was the first decan of Gemini Season, and Mercury was rising. The moon was waxing again in Scorpio. Between Neptune, the mother planet of divine compassion and two waxing moons, Queen Mother Ayanna Ade's essence is saturated in divine mother energy. In the Afrikan way of the stars, it was the season of The Market. The day vibrated on a 7, the number of Divine completion. 222.9 The Mothership honors Ayanna Ade as a distinguished ancestor. And why not? Her life provided a fine example of the miracles in simply doing the work of Spirit.
Ase.